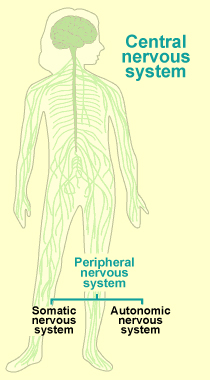 THE SOMATIC NERVOUS SYSTEM
These nerves participate in the organism's relationship with its external environment. They send information to the brain from the body's various sensory detectors. These nerves also enable us to respond to these stimuli by moving through our environment.

THE AUTONOMIC NERVOUS SYSTEM
These nerves are more involved in regulating vital internal functions. They help to maintain internal equilibrium by coordinating such activities as digestion, respiration, blood circulation, excretion, and the secretion of hormones. The autonomic nervous system in turn is divided into two categories.