Our Evolutionary Inheritance





Junk Food and Alzheimer's: Closer Links Than Once Believed
Walking in Nature Stops You from Brooding
The random mutations that are the source of evolution can have three kinds of consequences for an organism:
1) the emergence of an adaptation, meaning a structure or mechanism built through natural selection;
2) by-products or side effects (or ""exaptations"" or ""spandrels", see links below) that accompany such adaptations without having been selected directly;
3) ""random noise", meaning mutations whose results do not affect natural selection and so do not affect evolution.

Thus, the emotion associated with jealousy is an adaptation that strengthens the tie between a child's parents, stress is a by-product of the chronic activation of the fight-or-flight system, and variations in individuals' temperaments are probably due to random noise.
The ability to ascribe beliefs, needs and desires to other people is a very useful cognitive mechanism for an individual to have. It lets that individual not only anticipate hostile attacks, but also foresee other people's needs and meet them to promote ties of attachment, or simply understand their circumstances and actions.

This inference module (or "mind -reading" module) seems to appear at around age 3 in all human beings, regardless of their culture of origin. This module also seems to be distinct from the one that deals with inanimate objects, and a malfunction in this module results in a disturbance that resembles autism.
Evolutionary psychology is an approach that grew out of sociobiology in the late 1980s. Evolutionary psychology seeks to re-examine human behaviour in light of natural selection and sexual selection.

This approach is based on the fact that the earliest ancestors of today's humans (for instance, Homo habilis, who appeared about 2.5 million years ago) evolved for thousands of years in an environment very different from our own. The term "environment of evolutionary adaptedness (EEA)" is used to refer to these various constraints to which our hunter-gatherer ancestors were subject on the savannah.
| | |
| --- | --- |
| Some of these constraints were physical, such as the need to keep warm, to find enough food, and to avoid disease and predators. But even more important were the social constraints, such as the need to maintain reciprocal relationships with other individuals, to avoid cheaters, and to secure a good rank in the hierarchy, as well as the need to find a partner with whom to reproduce and to form sufficient ties with that partner to raise the resulting young. | |
| | |
| --- | --- |
| | Consequently, in addition to selecting the anatomical characteristics best suited to the physical environment, evolution also selected the psychic mechanisms that provided our ancestors with the best pay-off in these social situations. Evolutionary psychology thus sees the modern human brain as being composed of modules that specialize in problem-solving and that have thus enabled the species to optimize its reproductive success. |
Thus we see that our brain was not "selected" to live in the urban, technological environment that we know today. For some brain functions, this does not matter. But for others, such as the chronic activation of the brain's alarm system, the consequences for the organism may be disastrous. The corollary of this might be the calming effect that city dwellers experience when they go out into the country, an environment much more similar to the one in which our species evolved.

With its model based on modules adapted to the problems encountered by our ancestors, evolutionary psychology thus departs significantly from the standard model of the mind on which the social sciences are based.
The basic reasoning underlying evolutionary psychology is often summarized in the following five principles.
The human brain's circuits are subject to natural selection (through the genes that encode for the major neural pathways) and have evolved so as to generate behaviours that are adapted to environmental circumstances.
The human brain's circuits have not been selected to solve all types of problems, but only those that have affected our ancestors' reproduction over millions of years.
Most of what happens in our brain does so without our being aware of it, so that many things that seem easy to us (such as recognizing someone's face, or running) actually involve highly complex neural circuits and operations.
Various types of neural circuits have become specialized in solving various kinds of adaptive problems.
The modern human brain is actually adapted to the conditions of the Stone Age.
We perform most of our everyday tasks mechanically, without even thinking about them. And yet, to perform a task such as recognizing someone, or tying our shoelaces, or simply talking, we must have highly complex networks of neurons in our brains. One proof of this fact is that machines assisted by tremendously powerful computers can still manage such tasks only with some difficulty.

The hundreds of thousands of years of evolution that shaped our brains have thus developed an unconscious mode of operation of the brain circuits that let us solve those problems that humans have been encountering since the days of our earliest ancestors.One example of this unconscious operating mode is that if you know how to type, your fingers can find the letter G on a keyboard right away, but if someone asks you to say where that letter is, you have to think about it for a moment.
Another example is our perception of perspective. This perception occurs because of specialized brain circuits that our ancestors developed to process visual information. These circuits are the basis for many of the optical illusions that we experience. For instance, despite what you may think, the two white rectangles superimposed on the railroad tracks below are actually the same length.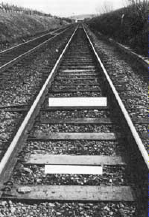 Source: R. L. Gregory